Add a Logo
A logo can be added either from a local or remote source. For now only png and jpeg/jpg are supported.

ggtrack

(

gg

,
        qr_content 

=

 

'text content here'

,
        logo 

=

 

'https://www.r-project.org/logo/Rlogo.png'

)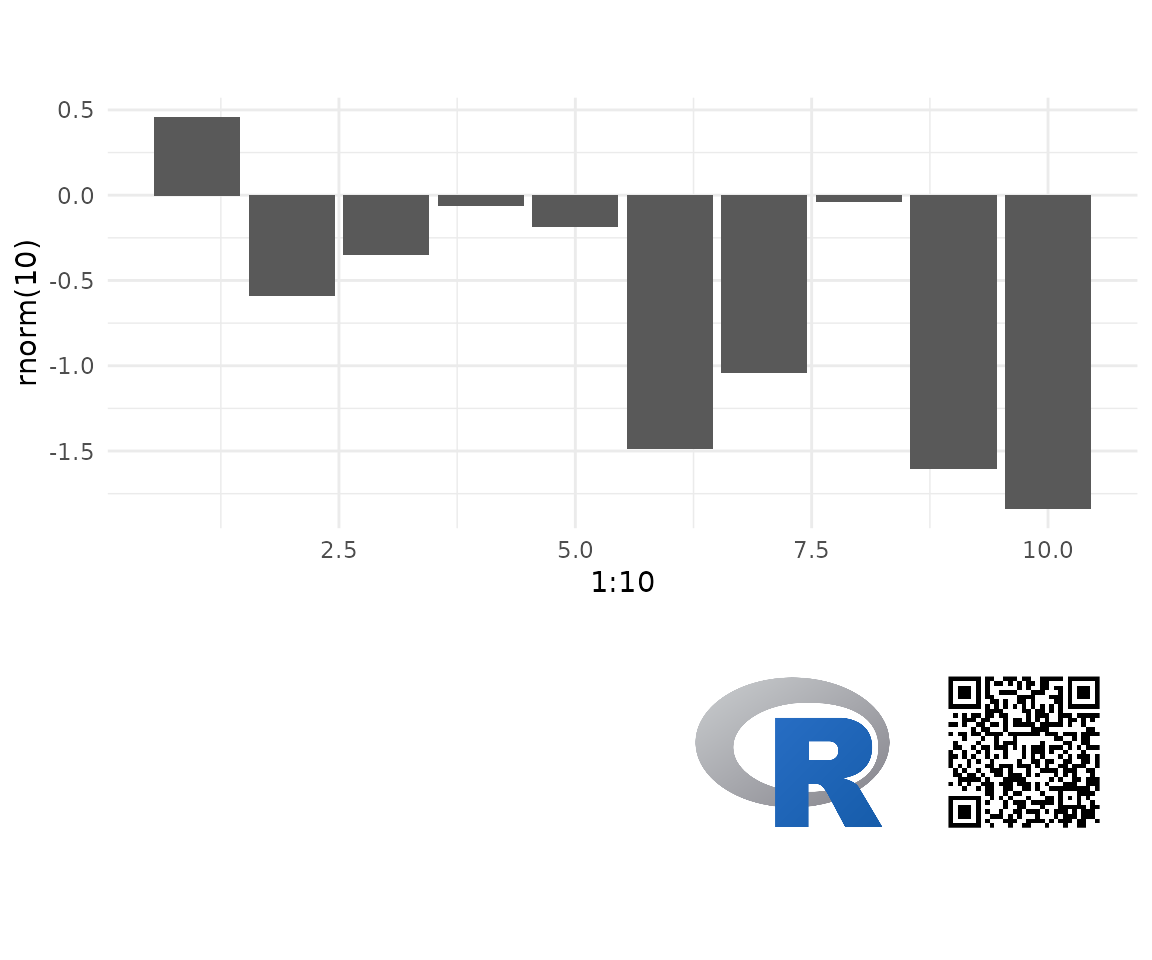 Add a download link
The tracking chart can also be saved and made available for download. You can do this manually with gplotly::ggsave() and a simple markdown link as below.

ggsave

(

g

, filename 

=

 

'ggrack_simple_download.png'

)
However, ggtracker also has a helper function to facilitate. Using make_download you can create either a download link or button. Unlike the markdown link which simply opens the file in the browser; make_download creates a proper download link. Note, in the example below it is necessary to specify both location to save the file and the download location. This is only necessary in this example due to the way pkgdown handles file locations. In most instances you only needs specify the save location. The button can also be styled by CSS.



dl

 

<-

 make_download

(

g

, 
                    save_file 

=

 c

(

'../man'

, 

'figures'

, 

'ggtrack_chart'

)

,
                    download_file 

=

 c

(

'../reference'

, 

'figures'

, 

'ggtrack_chart'

)

,
                    type 

=

 

'button'

,
                    date 

=

 

''

,
                    render 

=

 

FALSE

)
Something to consider at this point, with a down load button it is possible to display a plot without the additional metadata. Then pass the tracker object to the download link or button for users. This is a simple way to maintain the aesthetics of your report but still include vital metadata.
Encode Additional Content Within Image
It is also possible to encode arbitrary text or an R object within knitr chunks of a report or within a downloaded file when using make_download. Using the stegasaur package knitr hook is the easiest way to include the code used to generate a plot (see stegasaur docs).
The stegasaur stenograph method is included here as a download option. Simply pass the text or R object you want encoded to the stenograph variable. Then to decode the content of the image use stegasaur::decode(). For this method to work the image must be saved in PNG format, this is the default for make_download.



dl_steg

 

<-

 make_download

(

g

, 
                         link_text 

=

 

'download file with stenograph encoded'

,
                         save_file 

=

 c

(

'../man'

, 

'figures'

, 

'ggtrack_steg_chart'

)

,
                         download_file 

=

 c

(

'../reference'

, 

'figures'

, 

'ggtrack_steg_chart'

)

,
                         type 

=

 

'link'

,
                         date 

=

 

''

,
                         render 

=

 

FALSE

,
                         stenograph 

=

 rnorm

(

10

)

)